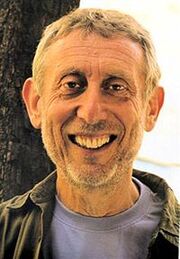 Michael Wayne Rosen
 (born 7 May 1946) is an English broadcaster, poet and children's book author. He was appointed as the fifth Children's Laureate in June 2007, succeeding Jacqueline Wilson, and held this honour until 2009.
Rosen recently gained some infamy in the Internet as a subject of a YouTube Poop (YTP) series involving his videos being spliced to make it seem like he's saying something else, i.e. profanities, absurd stories, or other adult references. While he did somewhat object to it, his reaction to the parodies was mostly positive, commending on the poopers' creativity. He did also agree to a YTPer's comment in an email, on parents being lax on their children's surfing habits.
In the parodies
Edit
Besides being featured on YTPs, Rosen also appeared on parodies and/or poops made by certain Untergangers like Benad361, DictatorAntics and WonkyTonkBotty.
Benad's Rosen Wars: Revenge of the Plamz marks Rosen's first major involvement in the Parody Universe - to the extent that he is the Dark Lord of the 'Toenails'. He even manages to take the German Fuehrer, Adolf Hitler, as his new apprentice, and the two plot to conquer the Parody Universe. He forms the Plam Empire, and leads a series of stunning victories against the inhabitants of the universe in his role as emperor, such as capturing Earth, and even cutting down Antic Master Hermann Fegelein after a vicious duel.
External links
Edit