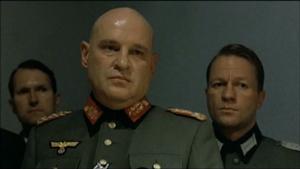 Alfred Josef Ferdinand Jodl (help·info) (10 May 1890 – 16 October 1946) was a German military commander, attaining the position of Chief of the Operations Staff of the Armed Forces High Command (Oberkommando der Wehrmacht, or OKW) during World War II.
He was later executed for war crimes, after being convicted at the Nuremberg trials.
In Benad361's parodies
Edit
In the parodies of Benad361, Jodl's role is practically identical to the role that he plays in the Parody Universe of most untergangers - zealously objecting to Hitler's plans at every turn, however rational, sensible, or irrational they are. In turn, Hitler often becomes infuriated at this, ranting and raving, and threatening to kill or replace Jodl. 
In the Rosen Wars series, Hitler becomes Emperor Rosen's new apprentice, and is ordered to kill any of his former generals and friends who could stand in the way of the first stage of Rosen's insidious plans (to merge the reich with Rosenland to form the Plam Empire). Jodl is one of the first to be cut down and killed, despite attempting to use his objections to save himself. 
For a full timeline of Benad361's parodies (and therefore a full timeline of Jodl's appearances), see Benad361's Parody Timeline.